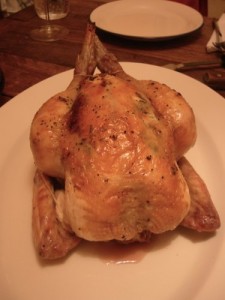 Learning how to cook a whole chicken is a simple journey with a tasteful ending.
First, when cooking with a chicken recipe it is essential to know that uncooked chicken juices carry sickness causing bacteria. Always keep juices away from other foods, surfaces, utensils, or cutting boards. Wash hands frequently.
Second, rinse a 4 pound chicken inside and outside. Remove the insides - check both ends. Pat dry. Place in pan and prepare the chicken in your desired method. One delicious and easy way to prepare a chicken is to pour 1/2 a bottle of Italian dressing over it. Cover tightly with foil and place in 375 degree oven for 1 3/4 hours. Inside temperature of chicken should reach 160 degrees and juices should flow clearly.
Chicken is a good source of protein and a lean fat. It is a great addition to almost any diet. Iced tea is a favorite drink alongside a whole chicken dinner. Enjoy the results of your labor!