Carving pumpkins and roasting seeds is a favorite fall tradition for many families. If you want to continue the tradition in your home, here is a quick refresher on how to cook pumpkin seeds.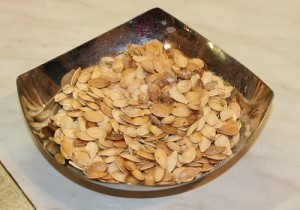 You will need the following ingredients:
- pumpkin seeds
- 2 tsp of oil for every 2 cups pumpkin seeds
- dash of salt (or to taste)
- Optional: seasonings such as garlic powder, onion powder or cayenne
After scooping a pumpkin (removing the seeds and other innards), separate the pulp and strings from the seeds before the pulp dries. Next, place the seeds in a colander and rinse under cold water.
Once rinsed, thoroughly dry them on paper towels. Preheat the oven to 400 degrees. Place all the seeds in one layer on a rimmed baking sheet. Drizzle oil on the seeds and toss with your hands. Seasoning can now be added if desired. Next, roast the seeds in the preheated oven for 25 minutes, stirring every ten minutes. They are done once golden with small amount of brown on the edges. Toss with a dash or two of salt while still hot.
Pumpkin seeds are healthy and tasty, providing protein, zinc, magnesium, iron and calcium. For another tasty treat, try sprinkling them on green salads or sauteed vegetables.
Here's to another Fantastic meal!