A spaghetti squash dish can be easy, as shown below, but other recipes can also be as complex as any meal involving pasta, including tetrazzinis and primaveras. It all depends on your tastes and willingness to try something new. For now, let's stick with a simple recipe for how to cook spaghetti squash.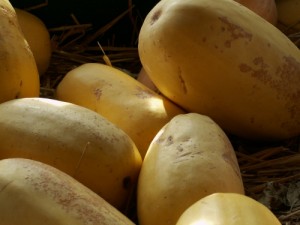 You will need the following ingredients:
- 1 whole spaghetti squash
- Sweet butter to taste
- Grated Parmesan cheese to taste
- Fresh ground black pepper to taste
Boil the spaghetti squash in a large stock pot of boiling water for 45 minutes. When the squash is done, remove and cut in half. Remove the seeds and set aside. They can be roasted like pumpkin seeds. Separate the pulp into long, spaghetti like strands. Serve tossed with the butter and cheese and black pepper.
Spaghetti squashes have been bred to have stringy pulp that resembles spaghetti. Like other squash, spaghetti squash is easy to grow in backyard gardens or even in containers, and may even cross pollinate with zucchini.
Like other squashes, spaghetti squash is low in calories and high in nutrients, including Vitamin C, Vitamin A and beta carotine.
A good dry white wine like Sancerre, Pinot Blanc or Meursault can go with spaghetti squash. As it's a lighter meal, and can be overwhelmed by heavy sauces, including tomato sauce, it should go well with fish, a green salad, or cold meats.