Cooking tuna does not have to be an intimidating process. Learning how to cook tuna in a simple recipe helps. Below is a simple yet delicious tuna recipe for Seared Tuna Steaks.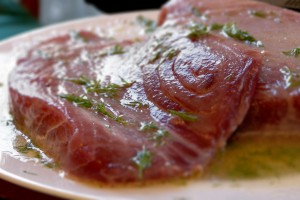 You will need the following ingredients:
- 2 tuna steaks
- 2 tablespoons coconut oil
- Fresh ground pepper
In a medium-sized skillet, heat oil over medium-high until it melts down and coats the pan. Cover both sides of tuna steaks with fresh ground pepper and place in skillet. Cook 5 to 7 minutes on each side. Medium-Rare to Medium is the most desirable way to serve the tuna steak. Cook for a little longer if desired. Serve hot.
Tuna is a wonderful fish rich in omega-3 fatty acids , which help to promote good cardiovascular health. Tuna is also a great source of: selenium, magnesium, and potassium and also the B vitamins. It is best served with a healthy salad dish.

Here's to another Fantastic meal!