White rice has a long history behind it, and an even longer list of how to cook white rice. If you are going to be cooking a lot of rice or for a long time to come, I suggest investing in a rice cooker, which will take all the guesswork out of cooking white rice. You can also cook white rice in a pot on your oven (range). Simply fill the bottom of the pot with approximately one inch of rice, then add another inch of water on top. Cook for approximately 20 minutes or until rice is tender. An easy trick to measuring the rice is to fill the pot full of rice to your first knuckle on your index finger and then water to your second knuckle.
White rice can be the base of an entree, a side dish, or even in desserts. I'd like to share with you a classic, and delicious, white rice and vegetable Teriyaki dish.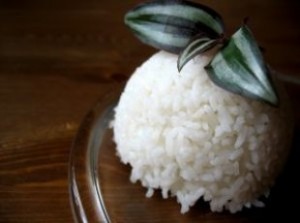 You will need the following ingredients:
- 2 cups rice
- 4 cups water
- 1 tsp salt
- 2 tbs butter
- 1 tbs oil
- 1 tsp ground black pepper
- 1/2 cup frozen peas
-1/2 cup frozen diced carrots
- 1/4 cup diced onions
- 1 cup teriyaki sauce
Add 2 cups water to saucepan and bring to a boil. Pour the rice, butter, and salt into the saucepan, and stir together once. Bring the ingredients to a boil, then immediately turn down to the heat source to lowest setting, and cover the saucepan. Let rice sit for 15 minutes, then check to see if all water has been absorbed and rice is throughly cooked. If not, cook for an additional 5 minutes and check again. Do not stir while it is cooking. Once all water has been absorbed and rice has been cooked, put in a large bowl
Pour 1 tbs oil into a skillet and heat for 2 minutes. Add vegetables into skillet and cover for 5 minutes, while stirring every 45 seconds. Stir in 1 cup water teriyaki sauce, and let cook for 5 minutes while stirring occasionally. Remove vegetables and Teriyaki from skillet and place over rice, mix together, and enjoy!
This dish is flavorful and tastes great with a side of chicken! The vegetables with the teriyaki give the rice the missing ingredient it is looking for. Can be made for a small lunch dish, or for a big dinner for you and your whole family!