A brisket can be one of the tastiest and most succulent cuts of meat. The following is the easiest way I know how to cook a brisket.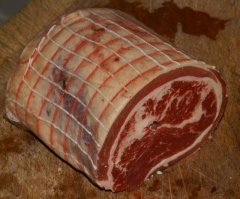 You will need the following ingredients:
- A trimmed brisket
- Liquid smoke
- Seasonings of your choice (Onion powder, garlic, seasoned salt, etc.)
- BBQ sauce
Marinate the brisket in the liquid smoke in the baking dish for at least 6-8 hours. When it's done, pour off the liquid smoke, rub your seasonings onto the brisket and put it in a 250 degree oven. Make sure your baking dish is covered and bake the brisket for five and a half hours. Cover the top of the brisket with the bbq sauce and bake for one more hour.
Serve it with baby potatoes and carrots for a perfect family dinner. Or, for a more adult approach, serve with beautiful, tender asparagus and a nice merlot.