This recipe shows how to cook a pork loin combining elements of Italian food and grilling. It is called Italian Grilled Pork Loin.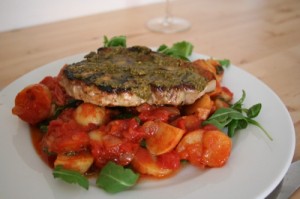 You will need the following ingredients:
- 2lbs Boneless pork loin
- 2 tbsp extra virgin olive oil
- 1 tbsp butter
- 1 4oz can tomato sauce
- 1/2 pound of mushrooms, chopped
- 1 large onion, chopped
- 1/2 cup white wine
Rub ingredients:
- 1/4 cup brown sugar
- 1 tsp onion powder
- 1 tsp garlic powder
- 1 tsp paprika
- 1 tbsp Italian seasoning
- 1 tbsp salt
- 1tbsp fresh ground black pepper
Combine rub ingredients, rub onto roast and let it marinate in a refrigerator for 8 hours. Heat oil and butter in a skillet until the butter stops foaming. Sear the roast on all sides. Place on a grill at medium heat to finish. It should take about 15-20 minutes. While the roast is on the grill caramelize onions in the skillet, deglaze with wine and add tomato sauce. Cook for 5 minutes. Remove roast from grill, let rest for 10 minutes, and pour the sauce over it, slice and serve. Serves 3-4.