Confused about how to cook beef? Try your hand at tasty, affordable, and savory barbeque beef.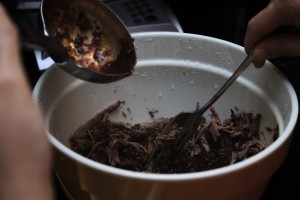 You will need the following ingredients:
- 4 pound chuck roast
- 1 1/2 cups ketchup
- 1/4 cup packed brown sugar
- 1/4 cup red wine vinegar
- 2 tablespoons Dijon-style mustard
- 2 tablespoons Worcestershire sauce
- 1 teaspoon liquid smoke flavoring
- 1/2 teaspoon salt
- 1/4 teaspoon black pepper
- 1/4 teaspoon garlic powder
In a bowl, stir together ketchup, brown sugar, red wine vinegar, mustard, Worcestershire sauce, and liquid smoke flavoring. Stir in salt, pepper, and garlic powder. Put chuck roast in the slow cooker and pour liquid mixture over it. Cover, and cook on low for 8 - 10 hours. Remove chuck roast, shred with a fork, and put back into the slow cooker. Stir meat and sauce evenly, and cook for 1 hour. Enjoy the great taste and a healthy dose of protein, iron, b vitamins, and zinc.

Here's to another Fantastic meal!