This is simple recipe shows how to cook chicken in the oven and have it turn out juicy, fragrant and bursting with flavor.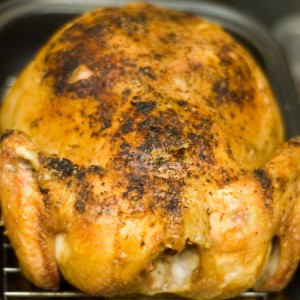 You will need the following ingredients:
- 1 Whole baking chicken (4-5 pounds)
- Extra virgin olive oil
- 1 Heaping tablespoon dried rosemary
- 1/2 Teaspoon garlic powder
- 1/2 Teaspoon Morton brand Nature's Seasons.
Preheat oven to 350 degrees. Remove neck and giblets, then rinse the chicken thoroughly and pat dry. Place chicken in a casserole dish with a lid.
Crush the rosemary a little to release flavor. Mix a little extra virgin olive oil in with the rosemary, then, using your fingers, push oiled rosemary underneath the skin on the breast and legs. Then oil the chicken all over on the outside with more olive oil. Put the garlic powder inside the cavity of the chicken along with the Nature's Seasons.
Cover and bake for about an hour and a half , uncovering for the last half hour to brown.
This is how to cook chicken in the oven the healthy and delicious way. Serve with baked red potatoes and steamed asparagus for a tasty and nutritious dinner.

Here's to another Fantastic meal!