Couscous originated as a main ingredient in most North African cooking, made from durum wheat, but can now be found in your local grocery stores. There are several methods of how to cook couscous, and it can be found in both hot and cold dishes alike. Here we will explore a cold, salad-like dish, with couscous as its base.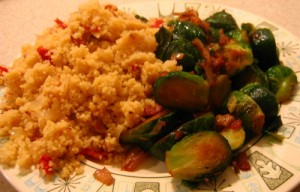 You will need the following ingredients:
- 1 cup couscous
- 1 1/4 cup water
- 1 tsp salt
- 1 tomato, diced
- 1/4 cup fresh parsley, chopped
- 1/4 cup onion, diced
- 2 tbs olive oil
- 2 tsp ground black pepper and salt mix
In a saucepan pour 1 1/4 cup of water with 1 tsp salt, let boil. Turn off heat source, place the uncooked couscous in the saucepan with the water, stir . Cover saucepan for 5 minutes. Uncover saucepan and fluff the couscous with a fork. Place couscous into a bowl and mix in the oil, salt/pepper mix, diced tomato, parsley, and onion.. Let chill in the refrigerator for about an hour. Enjoy!
This recipe includes many different textures and flavors, making a wonderful combination of ingredients. It is complimented best when paired with a seafood dish, but can also be enjoyed eaten alone. It is easy to make, with a flavor you will not forget!