Knowing how to cook fish is a staple of every good cook. There are as many different ways of cooking fish as there are, well, fish in the sea! (Pun intended). One of the easiest to prepare and most delicious fish recipes is called Mediterranean Salmon. All you need is salt pepper, salmon (or whatever fish you're cooking), and a few other fresh ingredients to make this amazing dish. Here is the recipe below: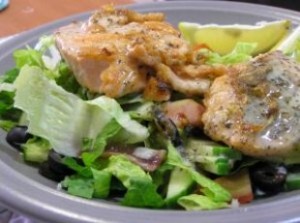 You will need the following ingredients:
- 1/3 teaspoon salt
- 1/3 teaspoon black pepper
- 4 1 inch thick salmon fillets
- Non- stick cooking spray
- 2 cups of tomato
- 1/2 cup chopped zucchini
- 1 tablespoon olive oil
- 1 can sliced ripe olives, drained
- 1 tablespoon of capers
Spray an even coat of cooking spray on dish. Place fish in cooking dish. Add salt and pepper on the fish (both sides). Mix zucchini, olives, capers, and tomatoes in a bowl. Drizzle olive oil over this mix. Pour over salmon. Bake in oven at 425deg for 30 minutes. Enjoy!
Not only is this dish delicious, but it is also heart-healthy. It has iron, fiber, and is a good source of protein. This dish also has the all-important Omega 3 fatty acids which protect the heart. A tasty dish that brings health benefits is a two-for-one deal that everyone can enjoy.