When looking for good vitamin-packed nutrition, look no further than your product aisle or garden. Choose fresh green beans for a boost to your health and a delightful taste treat. Anyone who wonders how to cook green beans will find they are a versatile and easy vegetable to prepare.
Green beans are commonly boiled or steamed very simply. However, aside from the usual boiling or steaming of green beans, roasting is another wonderful option to bring out their natural flavor.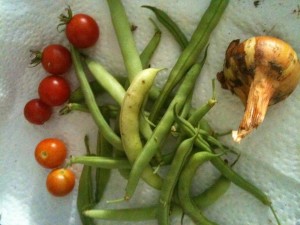 To roast green beans, toss one pound of washed green beans in 3 tablespoons of olive oil, a little salt and pepper and a tablespoon of lemon juice. Arrange the beans on a baking sheet lined with foil or parchment and bake at 475 degrees about 15 minutes or until tender and lightly browned on the edges. Add crumbled bacon or cooked ham cut in squares for a tasty dish.
Low in calories but high in dietary fiber, vitamins and minerals, green beans also supply high amounts of antioxidants, vitamins B-12, B-6, C, Folate, potassium, manganese, magnesium, iron and calcium.