If you are wondering how to cook lamb, here is one easy recipe you must try. It is called Simply Grilled Lamb Chops.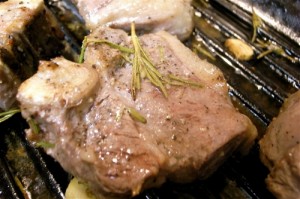 You will need the following ingredients:
- 2 pounds lamb chops
- 1 onion, chopped
- 1/4 cup distilled white vinegar
- 2 teaspoons salt
- 1/2 teaspoon black pepper
- 1 tablespoon minced garlic
- 1 or 2 tablespoons olive oil
Mix all ingredients together and place in a plastic bag and toss until coated. Let set in refrigerator for 2 hours.
Preheat an outdoor grill for medium-high heat. Remove chops from the marinade and wrap exposed ends of the bones with aluminum foil to keep them from burning. Grill about 3 minutes per side for medium. If you like them a little more well done, cook for another 1-2 minutes per side.
Serve with roasted baby carrots,creamed spinach and double baked potates,along with red wine. Lamb is a very good source of protein and selenium. It is also a good source of vitamin B12, niacin, zinc and phosphorus.