Need some help learning how to cook lasagna? It is actually quite simple and delicious!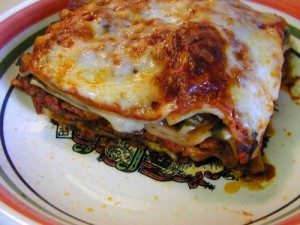 First step is to brown some onions and garlic in olive oil until the onions are transparent. Then brown some ground beef in a skillet and add salt, pepper and oregano to it. Mix the onion and ground beef mixtures together.
Next, lay some slightly undercooked lasagna noodles in the bottom of a casserole dish. Then layer mozzarella cheese, cottage cheese, the ground beef mixture and prepared tomato sauce in the casserole dish. Finish with a top layer of the tomato sauce and then top the whole thing with a layer of Parmesan cheese. Finally, bake at 350 degrees for about 30 minutes or until the cheese is melted throughout the whole dish.

Here's to another Fantastic meal!