Learning how to cook Mahi Mahi is simple and an excellent addition to any cook's repertoire. One efficient way that saves on time and clean up is the foil method.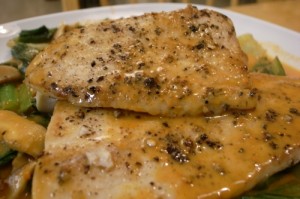 Preheat the oven to 400 degrees. Prepare the Mahi Mahi by brushing oil on four pieces of foil. Using four pieces of Mahi Mahi, place each on a piece of foil. Chop four scallions and sprinkle over the fish. Also, peel and finely chop a glove of garlic to be distributed evenly over each piece. Drizzle a teaspoon of white wine or cider on each. Add a pinch of salt and pepper, a dab of butter, close the foil, forming little pockets, and bake for twenty-five minutes. Asparagus complements Mahi Mahi very well as a side dish. Mahi Mahi is a healthy fish with selenium, vitamins B3 and B6, and omega-3 fatty acids.

Here's to another Fantastic meal!