The following is a recipe on how to cook meatloaf. Everyone will want second helpings of this tasty entree.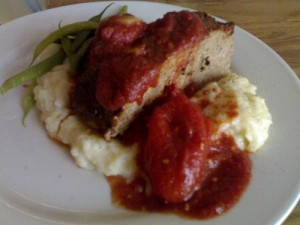 You will need the following ingredients:
- 11/2lbs. of ground beef
- 1 Cup of 2% Milk
- 1/2 teaspoon of salt
- 1/4 teaspoon of fresh ground pepper
- 2 cloves of garlic, minced
- 1 onion finely chopped
- 1/2 cup of ketchup
- 1/2 cup of breadcrumbs
Preheat your oven to 350 degrees. Combine all of the ingredients except the ketchup in a medium bowl and mix well. Place the mixture into an ungreased loaf pan and then spread the ketchup over the top of the meatlof. Bake for 1 to 1 1/2 hours until center is no longer pink.
This recipe will provide your family with a well balanced and wholesome meal full of protein and carbohydrates. Serve the meatloaf with glasses of ice cold milk and a healthy green salad for an appetizing dinner.