Moules Marinieres or Mussels in Wine Sauce is the most common preparation of mussels. Originating from Belgium, this quick and easy recipe is made with easily procured items from your local market or grocery.
There are many different techniques on how to cook mussels, but the biggest similarity is that wild mussels must be thoroughly cleaned and rinsed several times before cooking. The simplest way to go about doing this is with a stiff brush to remove any barnacles, sand or grit. You must also remove the beard by pulling the beard from tip to hinge. The beard should pull off easily. Farmed mussels are usually already prepared for cooking. It is also important that your mussels are alive when buying them and cooking them, unless they have been shucked and frozen. If the shell is tightly closed, it is still alive. If the shell is slightly open, it should close promptly when tapped. If the shell is open and does not close when tapped, throw it out. Mussels are best in quality no more than 4 days after being harvested.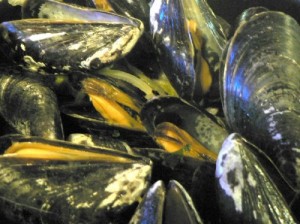 After you have cleaned your mussels you want to start with 1-2 cups water or a dry white wine (preferably a good Semillon) over high heat. Add in 1 finely chopped onion, 4 sprigs of Parsley, 1 sprig of thyme, 1 clove chopped garlic, and 1/4 tsp pepper. Let this simmer for about 5 minutes before adding your mussels. When adding your mussels you want to makes sure not to stack them on top of each other, this will prevent the mussels on the bottom of the pan from opening and likely result in them overcooking.
Only add enough mussels to cover the bottom of your pan. After adding the mussels cover the pan with a glass lid so you can watch for the shells to open. This should take about 4-5 minutes. As the shells open remove the mussels one by one and place them in a soup plate. After all your mussels have finished cooking pour the broth over the mussels and they are ready to serve. If you prefer to add them to another dish you can remove the top shell with a short dull knife or clam knife by inserting the knife between the top shell and bottom shell. Work the knife around to cut through the hinge muscle. Now slide your knife between the mussel and the shell and slowly detach the mussel from the shell. You should discard any mussels that do not open after being cooked for more than 6 minutes, or if the shells are cracked.
Mussels are usually served directly from their shells, usually as an appetizer or first course. Muscadet-Sur-Lie, Chablis, and Semillon are excellent paired wines with mussels. They also pair well with a fresh bread, to soak up the flavors of the broth and natural juices. Mussels are high in protein and low in fat and cholesterol. They are also rich in vitamin C and B12. Mussels are best cooked and served fresh, however they will keep in the fridge 48-72 hours if stored properly. After rinsing your mussels place them in a bowl or tray and cover them with a damp towel and place them in your fridge.