If you want an easy meal, consider learning how to cook pork chops. "Cheesy Pork Chops" is an easy recipe that is also very delicious.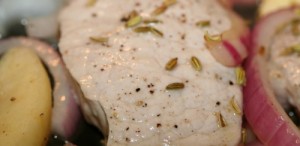 You will need the following ingredients:
- butter for frying
- 1/4 cup of flour
- 3/4 cup milk
- 8 ounces of cream cheese
- salt
- paprika
- pepper
- 1/2 teaspoon of garlic salt
- 1/4 cup Parmesan cheese
Preheat oven to 325 degrees. Warm the milk and blend in cream cheese, garlic salt, and 1/4 cup of Parmesan cheese. Add salt and paprika to flour in a medium bowl. Coat the meat in seasoned flour and brown in margarine or butter. Add cheese sauce. Cook 50 minutes or until done. Cooking time is dependent on thickness of chops.
Pork chops are a good source of protein and B vitamins. To make them healthier, trim the fat. Pork chops are delicious served with iced tea,coffee, or sodas. You can choose from four main cuts:leg, side, rump, and loin.