Pork tenderloin is a beautiful, lean cut of meat. Follow these simple directions on how to cook pork tenderloin and you're sure to impress even the toughest critic: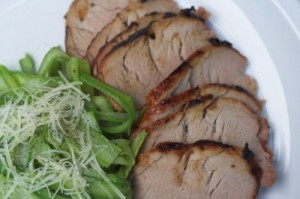 You will need the following ingredients:
- One pkg pork tenderloins
- Olive oil
- 3 cloves garlic, chopped
- 1/2 teaspoon chopped fresh thyme
- 1/2 tablespoon chopped fresh rosemary
- Salt and pepper to taste
Pork tenderloins are typically about a pound each and come packed two to a package.
Before cooking, use a sharp knife to carefully remove the white membrane (called silverskin) from each one. Preheat the oven to 400 degrees. Brush the pork with a little olive oil. Mix last four ingredients and coat pork with the mixture.
In a heated skillet, brown the tenderloins on all sides and set aside on a baking sheet that has been sprayed with cooking spray. Bake the tenderloins for about 8-10 minutes until the internal temperature is 160 degrees. Let the meat rest before serving. Serve with a sauce of balsamic vinegar reduced by about half.
A Merlot or Pinot Noir would go nicely with this dish.