Here's an easy recipe for how to cook salmon in a pan: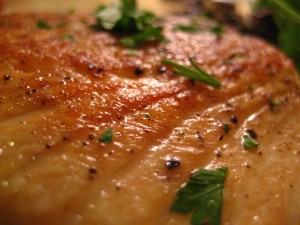 You will need the following ingredients:
- 4 6 oz salmon fillets
- 1 large clove of garlic, halved
- 1/2 teaspoon sea salt
- 1/2 teaspoon cracked black pepper
- 2 tbs Olive oil
- 2 large heirloom tomatos, chopped
- 3 or 4 sprigs fresh basil, chopped
- 1 large yellow bell pepper, chopped
Serves 4
Rinse salmon fillets; pat dry with paper towel. Rub half of the garlic clove over fish; discard. Sprinkle salt and pepper evenly over fillets. Cover with foil and bake for 20-25 minutes at 350 degrees.

While fish is baking, dice the remaining garlic half and saute in olive oil with the bell pepper for two minutes over medium heat. Add tomato and basil and continue to saute for another three minutes. Spoon sauce over salmon fillets and serve.
Salmon is a great source of Omega 3 and low-fat protein . Salmon is a great choice for a heart-healthy diet.
Here's to another Fantastic meal!