Many people are interested in learning how to cook sea bass. Some are intimidated at the thought of cooking this type of fish. Sea bass is actually very easy to prepare and cook and has many health benefits. One of the easiest and tastiest recipes for sea bass is herbed sea bass. Here is the recipe below: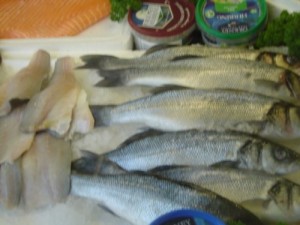 You will need the following ingredients:
- 2 sea bass fillets
- 1/4 cup of unsalted butter
- 2 1/2 tablespoons of dill weed (chopped)
- 1/4 cup of parsley
- 1 tablespoon of dried dill weed
- 1 cup of chopped onions
- 1/4 cup of chopped chives
- Salt and Pepper
- 1 tablespoon of lemon juice
- 2 chopped garlic cloves
Directions
1. Preheat oven to 350 degrees
2. Add sea bass, butter, onions, parsley, dill weed, onions, chives, garlic, lemon juice, salt and pepper to a dish.
3. Cook for 20 to 25 minutes. Fish should be lightly browned and flaky.
Sea bass is rich in omega 3 and also has vitamins A, D, B6 and B12 and will likely become one of your very favorite meals!

Here's to another Fantastic meal!