Steak is sure to be an enjoyable meal for any meat lover in your life (including you). Learning how to cook steak is as easy as it is enjoyable. Steak is best grilled over an open flame using either a charcoal or gas grill.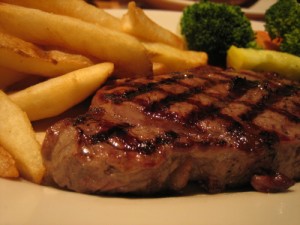 The first step is to season and marinate the meat. If marinating it is best to allow several hours for the meat to chill in the marinade prior to cooking. Using a fork, poke several holes in both sides of the steak. This will allow for the marinade and seasoning to absorb into the center of the meat. Pour your favorite marinade over the meat and chill. Season with salt, pepper, and garlic powder on both sides.
For a spicier option, consider using a cajun seasoning or seasoned salt as well. Place steak over flame and cook on both sides for several minutes depending on desired final temperature.
In portions, red meat such as steak can offer certain health benefits. Steak is best paired with red wine, beer, or other ice cold beverages.