Learning how to cook sweet potatoes is as easy as 1,2,3 and with very little effort you can have a new side dish your family will love. Learning how to cook sweet potatoes will open a door to hundreds of delicious recipes.
Here are two basic ways that are easy and can be finished in 20 minutes or less. One is salty and the other is sweet.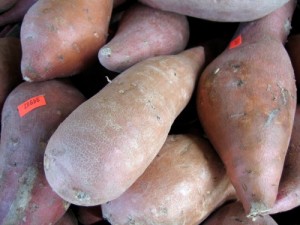 Recipe #1: Wash the sweet potatoes and cut in half lengthwise. Pour olive oil on the flat (cut) side and turn down on a metal cookie sheet. Place in 400* oven for 20 minutes. They will be brown and crispy on the flat side. Slather with butter and sprinkle with brown sugar. Yummy!
-or-
Recipe #2: Slice sweet potatoes 1/8" thick. Place on cookie sheet and sprinkle olive oil and sea salt. Bake at 450* for 15 minutes. They won't last long!
Sweet potatoes are filled with nutrients, including Vitamin K, carotene and they have fewer carbohydrates than white potatoes. Enjoy!