Tilapia is an excellent, almost buttery type of white fish that can be cooked in several ways. This article will lay out how to cook tilapia fillets in one of the easiest ways.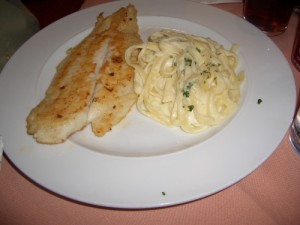 You will need the following ingredients:
- 2 tilapia fillets
- garlic powder
- season all
- oven safe pan
- non-stick spray
Set your oven to 400 degrees and spray your oven safe pan with the non-stick spray. Clean your fish off with running water, then dry it off with a paper towel and lay it on a plate.
Dust both sides of the fillet with garlic powder and season all, and place in the oven safe pan, then into the oven for 25 minutes. After it is cooked you can top your delicious fillets with shrimp scampi, or serve with a side dish of asparagus or green beans. You can even make a side salad for this dish.
Tilapia is great for your health because of it's lean protein and Omega 3 fatty acids. Tilapia has risen in popularity in recent years and is great because it is generally farm-raised, which means that it has had a controlled, vegetable diet, making it that much better for you!