If you are interested in how to cook spinach, you're definitely in the right place! The simplest way to cook spinach is simply to bring a pot of water to a boil and then put your spinach in it for about ten minutes. You'll need a lot of spinach as it boils down quite a bit. You can also just wash the spinach and eat it fresh as part of a salad.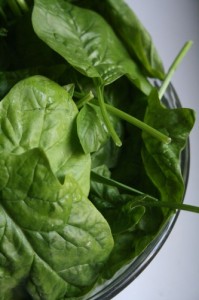 Another of the tastiest and healthiest ways I learned how to cook spinach is by making a fresh spinach and basil pesto sauce to go over whole grain pasta. It's amazing! If you like it and can think of a good name feel free to help me out. I provided the recipe below:
You will need the following ingredients:
- 2 cups baby spinach leaves
- 3/4 cup fresh basil leaves
- 1/3 cup toasted pine nuts
- 1/2 cup grated Parmesan cheese
- 4 peeled cloves garlic
- 3/4 teaspoon salt
- 1/2 teaspoon black pepper
- 1 tablespoon fresh lemon juice
- 1/2 teaspoon lemon zest
- 1/2 cup extra-virgin olive oil
Blend all ingredients in a food processor until the mix is close to smooth. Then gradually add olive oil to create that very smooth texture. Not only is this pesto delicious but it is very healthy. You have your spinach, basil, and garlic which are very good for you, but that isn't the best aspect of this dish. This sauce is only 67 calories per serving. All you need is some great pasta and you have an amazing dish. You can also be creative and try a delicious new type of pizza using this sauce. Enjoy!